Taylor Swift  just earned a major legal victory in her ongoing sexual assault trial against Colorado DJ David Mueller. 
A federal judge dismissed Muller's claim against Swift on Friday, claiming he couldn't prove the pop star ruined his career over allegations that he groped her during a 2013 meet-and-greet, E! News can confirm. The judge cited lack of evidence and witness testimony.
As a result, Swift will not be held liable for his subsequent firing from KYGO radio station. Mueller was seeking up to $3 million in damages. 
Additionally, four of the five claims made by Mueller against Frank Bell, her radio liaison, and mom Andrea Swift were dismissed. Andrea and Frank remain defendants in his first suit alleging tortious interference with prospective business relations. 
This, as well as the pop star's sexual assault and battery countersuit, will move ahead to jury deliberation next Monday. Both parties will receive 60 minutes for closing statements, as well as an opening statement and rebuttal. Swift is seeking $1 in damages.
Her legal team filed a motion earlier today to throw out Mueller's case entirely without jury deliberation, citing insufficient evidence.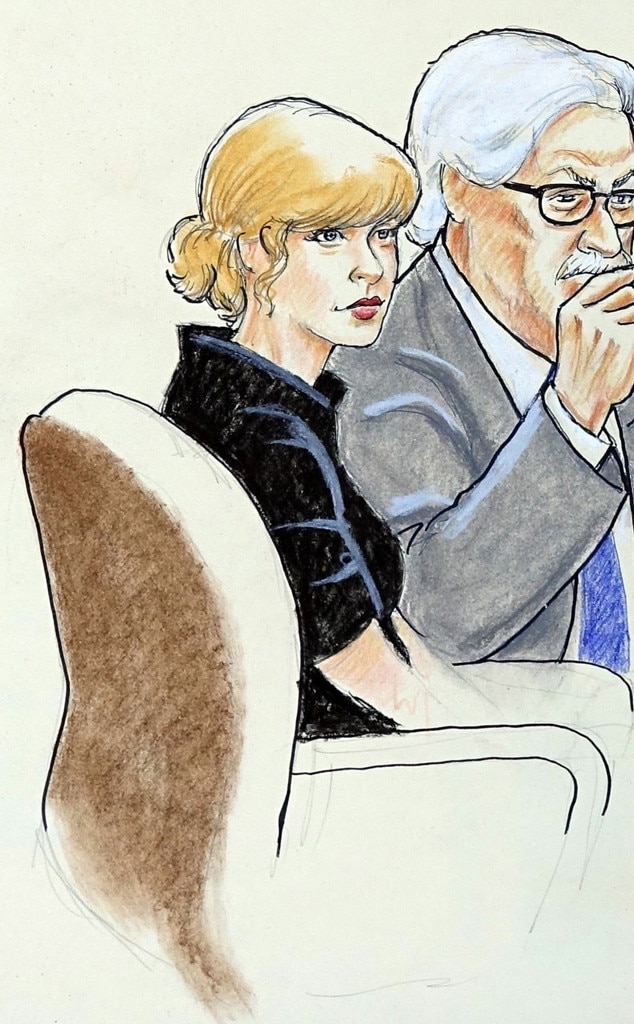 GLH / BACKGRID
The Grammy winner took the stand on Thursday, delivering a graphic testimony of what happened when Mueller and his girlfriend at the time, Shannon Melcher, were brought backstage to take a photograph with Swift at Denver's Pepsi Center. 
"It was a definite grab. A very long grab," she recalled to Mueller's attorney, Gabriel McFarland. When asked "how long" the alleged incident occurred, Swift replied, "I don't think it would be wise to estimate time in court, but I know it was long enough for me to be completely sure that it was intentional." 
McFarland asked further questions about the incident, including whether his client had grabbed her "bare bottom." "Yes," she answered. "He stayed latched on to my bare ass cheek… I felt him grab onto my ass cheek underneath my skirt. The first couple of milliseconds I thought it must be a mistake, so I moved to the side very quickly so that his side would be removed from my ass cheek, but it didn't let go."
As for her immediate reaction, Taylor further testified, "It was a very shocking thing that has never happened to me before. This was not something I had ever dealt with. I got as far away from him as I possibly could."
On Wednesday, Swift's mother, who was there at the Red tour meet-and-greet broke down in tears as she remembered her daughter sharing the information. "I was upset to the point where I wanted to vomit and cry at the same time," Andrea said, adding, "We felt it was imperative to let his employers know what happened."
Two days later, Robert Call, a vice president at KYGO, made the decision to fire Mueller. While taking the stand, he reportedly said he weighed several factors in the firing, including the gap between Mueller and Swift in the photo, his conversation with Frank Bell, whose allegations aligned with Swift's, and Mueller's own account of the encounter, which allegedly changed.
Most recently, Swift's former bodyguard Greg Dent shared his side of the story earlier today. 
"His hand went under her skirt," he said. "I did not see his hand touch her physically; I saw his hand under her skirt. She reacted, pushed her skirt down and moved over closer to [Mueller's girlfriend]. So in my opinion, I knew he touched her."
As for why Dent didn't step in when he sensed something was wrong, he explained, "Because [Swift] stayed there to finish the meet-and-greet. She continued with the photo. So no, I didn't go and jump in in front of the photo…my focus was on her. I looked at her to see if she was looking at me and wanted me to move in and she proceeded with the picture."
Swift has not commented publicly on today's ruling. 


Article Source link